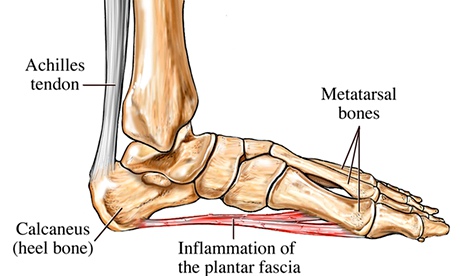 Overview
Plantar fasciitis is a condition characterised by damage and inflammation to the plantar fascia (i.e. the connective tissue on the sole of the foot forming the inner arch. This usually occurs at the attachment of the plantar fascia to the heel bone. Plantar fasciitis is the most common cause of heel pain seen in clinical practice. During walking or running, tension is placed through the plantar fascia. When this tension is excessive (often due to poor foot biomechanics such as flat feet or if it is too repetitive or forceful, damage to the plantar fascia can occur. Plantar fasciitis is a condition where there is damage to the plantar fascia with subsequent inflammation and degeneration. This may occur traumatically due to a high force going through the plantar fascia beyond what it can withstand or, more commonly, due to gradual wear and tear associated with overuse. Occasionally, a heel spur may develop in association with plantar fasciitis.
Causes
Currently no single factor has been reliably identified as contributing to the development of plantar fasciitis. The two risk factors with the most support from current research. Decreased ankle dorsiflexion. Increased Body Mass Index (BMI) in non-athletic populations. These factors are related in that both lead to increased strain on the arch, both lead to increased compression on the heel. When dorsiflexion range of motion (ankle flexibility) is lacking, the body compensates by increasing movement of the arch. In this way, decreased ankle dorsiflexion influences pronation and places strain on the underside of the foot. Similarly, having a high BMI causes strain because it places a load on the foot that may be in excess of what the foot can support. As mentioned earlier, overpronation is thought to be a contributing factor, but studies on this have so far produced mixed results. The second way these factors relate to each other is in the way people stand. A lack of ankle flexibility and a high BMI can both cause increased pressure on the heel in standing. Keeping weight on the heels causes compression under the heel. But it also means the muscles and ligaments in the arch are not being used to balance your body weight. Lack of use, I suspect, is a greater danger than overuse. Looking beyond these potential contributors to heel pain though, there is one major factor that overshadows them all-the way footwear alters the normal function of the foot.
Symptoms
Most patients with plantar fasciitis describe a sharp or stabbing pain on the bottom of the heel that is most severe when they first get up in the morning or after a period of resting. Some may feel like the heel is bruised while others may describe tightness or even a pulling sensation on the heel or arch.
Diagnosis
X-rays are a commonly used diagnostic imaging technique to rule out the possibility of a bone spur as a cause of your heel pain. A bone spur, if it is present in this location, is probably not the cause of your pain, but it is evidence that your plantar fascia has been exerting excessive force on your heel bone. X-ray images can also help determine if you have arthritis or whether other, more rare problems, stress fractures, bone tumors-are contributing to your heel pain.
Non Surgical Treatment
Cut back on walking, running or athletic weight bearing activities. Try the recommended stretches above. Shoes with a good arch support and heel cushioning or over-the-counter orthotics may help. Icing the area of pain or taking a short course of anti-inflammatory medications such as ibuprofen or acetaminophen will help with pain. If treatments do not help, a doctor can suggest other options.
Surgical Treatment
Plantar fasciotomy is often considered after conservative treatment has failed to resolve the issue after six months and is viewed as a last resort. Minimally invasive and endoscopic approaches to plantar fasciotomy exist but require a specialist who is familiar with certain equipment. Heel spur removal during plantar fasciotomy has not been found to improve the surgical outcome. Plantar heel pain may occur for multiple reasons and release of the lateral plantar nerve branch may be performed alongside the plantar fasciotomy in select cases. Possible complications of plantar fasciotomy include nerve injury, instability of the medial longitudinal arch of the foot, fracture of the calcaneus, prolonged recovery time, infection, rupture of the plantar fascia, and failure to improve the pain. Coblation (TOPAZ) surgery has recently been proposed as alternative surgical approaches for the treatment of recalcitrant plantar fasciitis.
Prevention
Warm up properly. This means not only stretching prior to a given athletic event, but a gradual rather than sudden increase in volume and intensity over the course of the training season. A frequent cause of plantar fasciitis is a sudden increase of activity without suitable preparation. Avoid activities that cause pain. Running on steep terrain, excessively hard or soft ground, etc can cause unnatural biomechanical strain to the foot, resulting in pain. This is generally a sign of stress leading to injury and should be curtailed or discontinued. Shoes, arch support. Athletic demands placed on the feet, particularly during running events, are extreme. Injury results when supportive structures in the foot have been taxed beyond their recovery capacity. Full support of the feet in well-fitting footwear reduces the likelihood of injury. Rest and rehabilitation. Probably the most important curative therapy for cases of plantar fasciitis is thorough rest. The injured athlete must be prepared to wait out the necessary healing phase, avoiding temptation to return prematurely to athletic activity. Strengthening exercises. Below are two simple strength exercises to help condition the muscles, tendons and joints around the foot and ankle. Plantar Rolling, Place a small tin can or tennis ball under the arch of the affected foot. Slowly move the foot back and forth allowing the tin can or tennis ball to roll around under the arch. This activity will help to stretch, strengthen and massage the affected area. Toe Walking, Stand upright in bare feet and rise up onto the toes and front of the foot. Balance in this position and walk forward in slow, small steps. Maintain an upright, balanced posture, staying as high as possible with each step. Complete three sets of the exercise, with a short break in between sets, for a total of 20 meters.